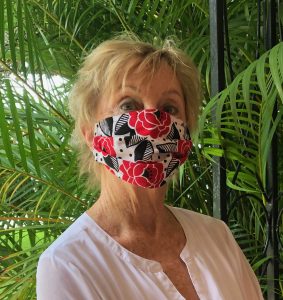 Angst Into Action…                                                 Live-WOW Blog  9/21/20
       It's been a while since riffing on my life and sending it out shamelessly to fab friends  A few of you asked what happened to my blogs.  ( I suck up social like a sponge, and I've rewritten my Will to include you.) I often feel  like a hot mess these days with  negatives stinging like a sleet storm, and gremlins stealing my words and memory. Obsessed with finding laughs, purpose and unleashing creative passions, here I go… finding the WOW in the Live.
        I'm spending much of my internal time trying to crawl out of Covid Paranoia. It's nightmares with the unmasked Grim Reaper in a cape threatening to put it over my head and super spreaders aiming at my hips. Cal and I wear masks and leap off walking trails like lepers when maskless joggers huff their way past us. Six feet didn't seem nearly enough as we backed away from the self-appointed Gator Whisperer at Sawgrass Lake Park advancing on us with his "incredible video."  And I had to laugh at the woman entering the hair salon, her mask dangling from her arm, singing, "I've got it. Got my mask."
        A.D.D in isolation is a caged monkey. Bugging calm Cal every fifteen minutes isn't a good idea. We married 33 years ago for "better and for worse," and I've often given new meaning to "worse."  Cleaning out piles of "V stuff ", I found years of articles, poems and stories. I had three choices:  1) Throw them all away.  2) Donate them to a mental health institution. 3) commit to updating two children's stories, find illustrators, stay focused and self- publish self-empowerment books. I chose option 3 and with Cal's immense help, am excited to have produced I Can, targeted to 3 yrs – 7 yrs.  My hair stylist said: "My daughter is obsessed with I Can. Ariana runs around the house saying, "Mommy, I can."  Note: This is a  fun themed Halloween and anytime story .
        Stinky Fruit targeted to 6 – 10 yrs., is a bilingual story based on a Mexican folktale set in Puerto Vallarta. Charismatic color illustrations by popular Puerto Vallarta artist, Ada Colorina, brings the book alive. Stinky Fruit will be published and ready for delivery end of October .
       To Visit mustardmoonproductions.com click here for info on empowering children's  books and purchase options!
        Looking outside my bubble and seeing so many in need , I organized a maskmaking group the end of March. I can't thread a needle and got really lucky.  With ten talented and passionate sewers, we donated 1000 masks in 6 weeks to healthcare, low income and social service facilities. Hundreds now in need of food, we've transitioned to contactless food drives. Cal is my wingman, picking up and delivering around St. Petersburg.  He's one lucky guy!
       After weeks of "angsting" about should we or shouldn't we, we recently jumped in our "Red Rocket" and  spent 3 ½ weeks visiting family in Chicago and Grand Rapids, MI, filling up our hearts with virtual hugs. We dumped cheap motels for Hilton Hotel properties and Evanston AirB&B. Hotels were 20 % occupied with detailed sanitization protocols. Ready to eat breakfast served in a paper bag.  Coffee only served during breakfast hours. Keyless access provided for pre- assigned rooms, and guests break open a "Clean Safe" seal on door to enter. TV remotes are wrapped in plastic.  Time with loving caring family and friends was as good as it gets!
       Lexington KY was a favorite stop.  Feeding carrots to horses on a picturesque blue grass horse breeding farm, treats to go at a  whimsical coffee house filled with eclectic art, and staying at the Campbell House featuring a huge open restaurant and outdoor deck was a "find." The "House wine" wasn't bad either! The bartender waited for me each of our two nights with the bottle open ready to pour. He thinks I'm a cute old lady, I told myself, quickly realizing he's been waiting to empty the opened bottle for months. I'm so cheap now, I think "house wine" is heavenly.  (Unless someone else is buying!)
Our Pink Playhouse has two designated guest bedrooms.  The flamingos and koi fish love to entertain.  St. Pete is a gem with museums, funky and fun restaurants from tiki to fine dining and white sand Gulf of Mexico beaches. We love the casual vibe, volunteer opportunities and inspiring new friends.  Our door is open, we'll even leave the light on for you. (Geez that is one old Motel 6 line !!!!)
        Angst into action?  There are days I want to throw off my masks with my bras. Wave a wand for equality. Go back to kinder days. I can only control me and send positive vibes to all of you suffering from physical and mental health issues, challenging isolations, fires & losses or just reeling from the overload. Reach out if you'd like a virtual hug or a laugh. 
VOTE!…Stay healthy…Share the love and find the laughs…Celebrate the return of any kind of "normal"
Virginia/ Ginni/ Auntie Ginni            (Cal too ! )