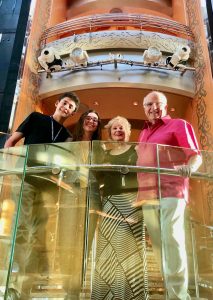 "What was I thinking?" I ask myself.  My husband, Cal, and I are boarding Royal Caribbean's Rhapsody of the Seas for a week cruise with our grandkids Nick, 14 years old and Nora, 16.  Our grandkids are brilliant, beautiful inside and out, respectful with positive attitudes.  But, I don't have kids, I'm clueless, and since moving away, only see them once a year. Sleepovers work, but will a week? "Just show them the 24/7 food buffet and they'll be happy," Lindy, their mother and Cal's daughter says.
"Wow" Nora exclaims, walking into our two-bedroom suite. "Our own bathroom." I'm at least as relieved. We explore the 2400 passenger ship, passing the huge atrium designed for hundreds to watch game shows, dance parties and musical groups from the lobby and 10 interior decks. We discover themed lounges, dining rooms, crystal chandelier restaurants, art filled corridors, shops, pool, the 24 hour food buffet and an impressive 1,000 seat theatre. "I hope they love this week as much as we will," I murmur to Cal.
We agree to have dinner together, breakfast in the suite (glazed donuts in the hands of comatose teens,) shore excursions and behind the scenes ship tours.  "We trust you, but not a bunch of overserved Spring Breakers," we admit, agreeing on a Midnight curfew.
"Louder, louder. What do you want?" The affable waiter for our first night dinner teases Nick who's shy and would rather lead a Scout troop through a jungle than talk with adults. Nora translates her brother's hushed words and shares her goal to become one of the first girls to become an Eagle scout. We don't want to miss a word.
"The Teen Club Meet and Greet is tonight," Cal and I suggest over dessert. "You might make some friends."  Within seconds they're whispering in code which I imagine, "If we don't make friends, we'll spend all our time with Gramps & Gigi." "We're going," Nora says grabbing Nick's hand and dragging him off.
That night Cal and I are relaxing in the Schooner Lounge listening to Timo croon Billy Joel and Frank Sinatra tunes at the piano bar when a troop of 15 young teens high on adrenaline race through the bar in a giggling posse.  "Wait…there's Nick!  There's Nora," I gasp.  Buried in the middle of the pack, Nick is slyly checking us out while Nora has an "OMG there they are," frozen on her face.. I feel like a Grandparent and I love it. "I pushed myself to go," she tells me later. Turns out it leads to a perfect balance of Kid Time and Gramps and Gigi Time.
"Meet you on the pool deck at 1:30 PM. The "Sexiest Man Competition will be hysterical," I suggest on our first Sea Day. "We've got prior commitments," Nora coins our new family phrase for avoiding activities we have no interest in doing.  Cal naps. I push myself through the poolside crowd for a prime spot to see beefy bods. Final two contestants are a flabby overweight 30 something up against a 6 pack ab hairy chest who starts the contest carrying a baby which I find out later he borrowed. Showing off their athletic skills, the overweight manipulates his flab in belly dance moves while kid stealer does the splits, pulls a groin muscle and wins. "You really missed a good one," I tell the family.
"Wanna' join us for Ballroom Fever with dancers and singers?" we ask the kids after watching them inhale broiled lobster and drawn butter at dinner, one entree Nick had no trouble ordering in a loud voice.  "Prior commitments," Nora laughs as they run off.
The excursion to Chacchoben ruins in Mexico's Costa wasn't my first choice, but who wants to be called, "the older Grandma." "We paid for this?" I ask myself, dragging arthritic knees up steep rocky steps. "I see ruins every morning I look in the mirror." I'm much happier later making tortillas for lunch in a private Mayan home and learning patois, two skills I'll never use. "We've never done anything like this," they say boarding the ship heading for a nap. This night we embarrass Nora with singing waiters and a birthday cake.
Booking our own city tour in Belize, we choose a tour sold by Jose, a grinning vendor who embarrasses Nora by calling her "Princess."  The driver-guide begins,"Belize is a country, not an island. This is a poor neighborhood, this is a rich area, this is the Rum Factory."  Running out of information halfway thru the tour, deafening karakoke music takes over the bus and the diverse passengers shout lyrics on a large screen above the dashboard while two overactive guys scream off key."  "That was fun," Nick grins.  "Bizarre Belize."
.
"What are you doing tonight?" we ask the kids ready to bolt after dinner.  "Don't know," they say. "We've got three little rules," we tease. " 1) We don't want Security calling our names on the public speaker 2) We don't want you facing "time outs" in the Guest Relations office and 3) Have fun and be smart." Giggling in the posse that night, they pass us disappearing into their teen world.
We fall into unofficial roles for two water sports shore excursions. The kids read the directions and guide us to our tours. Calm Cal, our anchor, brings passports and all we need to get on and off the ship.  I cheer us on, snapping photos and talking to everyone.  We're taking care of each other.
Getting dressed for our snorkeling trip is as appealing as looking ahead to a cold shower. I love swimming and snorkeling, but parading in a bathing suit in front of my grandkids in public and not wearing makeup?  Squishing my flab into my heavily spandexed royal blue suit is like stuffing ground beef into a sausage casing.  I choose my favorite cover up, large sunglasses and plaster a smile on my frightened WTF face.
Waiting outside the port for our tour pick up, we face the harsh realities of locals' lives. Independent tour vendors are forced by local police to stand in designated spots, many out of sight for disembarking passengers. "My friends and I don't see color," Nora says giving me hope Gen Z will change the world with their global embrace.
ROA Eco tour van arrives and after a 45 min drive through winding forested roads we're on the West end boarding a 30 ft catamaran. boat No one gasps when I tear off my coverup and plunge into the warm turquoise clear waters. The kids swim ahead to the reefs while the French boat captain takes my hand to speed me through the chop. The brilliance of the silent world of coral reefs and swarms of colorful fish remind me of my youthful goal to follow the sun on my yellow brick road. Beaming on their way back to the ship, the kids agree: "This is our favorite day."
The next day all I want to do is plant myself like a towel with Cal on beach chairs and watch the kids sliding down water slides and climbing aquatic jungle gyms at Cozumel's Playa Mia. "Here's to the kids! Here's to us," we high- five planning our self- styled 12 step Grandkid Cruise Recovery program.
Our last day was the only time we felt the cabin rocking. In the middle of a tour behind the scenes of the theatre, Nora feels nauseous and abruptly goes to her room. Maternal instincts kick in, and I follow to give her an organic Dramamine, and make sure she doesn't need a doctor. "Just need sleep. Thank you, Gigi." she tells me wrapping her arms around my neck.
That evening at dinner in Izumi, a specialty seafood restaurant, everyone's well and jokes are flowing. "No fatalities," Nora laughs.   "It's not OCD, it's OCPD Gramps," says Nick, watching Cal reposition his chopsticks on the black lacquered holder to perfectly align with the fork below. "You should know," we laugh. "We watched you for a week drawing precise pictures with food on your plate!"
"Are you serious?" I'm watching Nick pour a measured teaspoon of hot sake into my cup. "More, more!" I beg. "Just showing you what's proper," he says. "You've got your father's humor and Japanese heritage." Joey, our waiter lingers at our table. "You're lucky," he says
Greeting their parents as we disembark, we know the end is a beginning.  "It was great," Nick says, his few words speaking volumes. "I didn't know what to expect. It was fantastic!" Nora says. "You were perfect travel partners," we say, looking each other in the eyes. This time we don't have to ask for hugs.
Virginia/"Gigi"
Note: A shout out to Nick and Nora's parents who shared their treasures, prepped them for the cruise and commit every day to guide, support, love and cherish family.
###